HVAC And Plumbing Plumsteadville PA
Air Conditioning & Heating Plumsteadville, PA
Have your home or office well maintained to avoid heating and air conditioning system problems. Neglecting your air cooling or heating system creates more issues in the long term. You can rely on our team of qualified, reliable technicians that will provide only the best air conditioning services within the Plumsteadville, PA area, from the leaders in air conditioning companies:
Don't miss out on the opportunity to receive our value-for-money air conditioner warranty when you call us for your next air conditioner installation!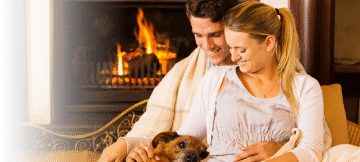 Save Money On Repairs And Installations With Only Best Heating Service in Plumsteadville, PA
If you are looking for professional service, especially when it comes to your HVAC system, look no further than American Home Comfort. Our professional techs have all the expertise and the best there is to offer when it comes to everything from furnace maintenance service, best air conditioning repair service Plumsteadville, PA to plumbing services,
It can be frustrating when you are in the colder months and your furnace starts giving you trouble. Do you accept the inadequate air quality? Not to mention the smell of the unhealthy fumes coming from your furnace. It may need a repair, service or replacement.
Other indoor air quality companies Plumstead, PA can't compete with our exceptional service. We do all of the above and the good news is our team at American Home Comfort is most reliable, especially when it comes to emergencies that need to be actioned on straight away! Call the go to contractor amongst furnace replacement companies. Our team will provide a thorough inspection to determine the best solution for you. The amazing benefit of choosing us as your contractor is that we can be at your premises in the blink of an eye! We understand every penny you spend must be worth the while, and we will ensure you save more and get more out of the service we provide. When it comes to a new heating unit and you need a reliable and professional team, the experts in the business of heating and cooling services can get your unit installed for you with ease.
Range To Offer And We Do Plumbing Services Too
Going DIY on your plumbing system should not be an option, many mishaps occur when you try to fix a faulty faucet or sort out a leaking pipe by yourself. Solutions for all your plumbing services are just a call away. Our professionals will provide the best plumbing service for either your home or business requirements. Give us a call for an estimate for any plumbing issues. We offer emergency plumbing services Plumsteadville,PA and it's surrounding cities.
Call Team At American Home Comfort For Your Specialties
American Home Comfort has been established since 2001, and will be providing the best solution for you, according to your preference and location in Plumsteadville,PA and its surrounding cities. Call us for a quote today on (610) 960-9375.
You will never know about our great service until you experience it for yourself. Contact us at American Home Comfort for honest, affordable HVAC and Plumbing services Plumstead, PA. Call today! We have a NATE certified and experienced service technician near you in Quakertown and surrounding areas including Bucks County, Allentown, Easton, Bethlehem, Ottsville, Plumsteadville and Doylestown, PA!