Get all your air conditioning and heat pump service requirements under one roof. We specialize in air-conditioning, heat pumps systems, heat pumps air conditioning, heat pumps repairs service, heat pump in ac and improving overall heat pumps efficiency. We're dedicated to making your world a better place. We service Quakertown and surrounding areas including Bucks County, Allentown, Easton, Bethlehem, Ottsville, Plumsteadville and Doylestown, PA.
Cash in on our coupons and get immediate discounts when you install furnace maintenance for your home, with us!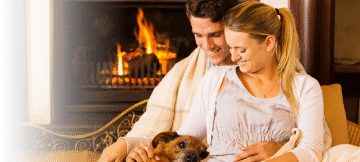 Heat Pump Services Quakertown, PA
At present, a residential heat pump is able to deliver at an efficiency of 600% as opposed to a gas heater at around 50% to 90% efficiency. Why choose any other heating type when heat pump efficiency surpasses them all? Have a brand new heat pump installed today by a team of reliable professionals. When you choose us, you choose a guarantee of the best quality service at reliable rates. We offer heat pump, installation, repair, and maintenance services all under one roof, bringing you the convenience that's just a phone call away. We're also here to answer any of your questions or concerns that you may have regarding heat pumps. Heat pumps for home and heat pumps near me -we're your one stop service provider.
Get Best Heat Pump Services At American Home Comfort
A heat pump is a device that can be used to warm and cool your home by the transfer of thermal energy. They use a refrigeration cycle, which works in the opposite direction that heat transfers do, and eliminate the need for an external power source. On average a heat pump can last up to 15 years but many of the newer models being manufactured today can last even longer. Have your heat pump installed by certified professionals who get the job done right.
Heat Pump Maintenance At Affordable Rates
The most important factor in determining the lifespan of a heat pump is maintenance. Good maintenance can extend the life of your heat pump far beyond expectations. We at American Home Comfort offer affordable heat pump maintenance services that you can trust. Have your heat pump in working condition all year round.
Professional Services At American Home Comfort
Have all your heat pump requirements met with our professional services. Our in-house certified technicians know their way around a heat pump, so all you have to do is sit back and relax while we get the job done. Our technicians are dedicated to completing all services on time, ensuring you can enjoy the benefits of your heat pump in no time. In addition to our highly qualified technicians, our customer service staff will treat you with complete respect, answering all questions with ease.
If your heat pump system is more than 15-20 years old, or if it's not performing efficiently, it might be time to replace the system.
If your heat pump system is less than 15 years old and not performing efficiently, you might want to look into replacing your air filter and inspecting the ductwork in your home.
If your heat pump system hasn't developed a major fault, you might be able to resolve the issue yourself. Check your air filter and ductwork, and service your heat pump system regularly.
Live better and in absolute comfort, with American Home Comfort. Call us today for a free quote at (610) 960-9375!