Air Conditioning and Heating Services in Doylestown, PA
If you are looking for the best heating services in Doylestown, PA, look no further than American Home Comfort. With decades of experience providing exceptional HVAC services for residential and commercial clients, we understand how important it is to stay comfortable in your home. From heating and air conditioning repairs to installing new furnaces or ductless mini-splits, our experts can help you find the perfect solution for your needs.
Visit our website to learn more about us and the plumbing services we provide in Doylestown, PA!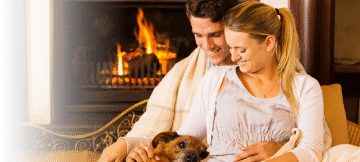 Reliable Fireplace Services in Doylestown, PA
From servicing existing fireplaces and gas logs to installing a brand-new fireplace system, we are your one-stop shop for all your heating needs. Our professional technicians are fully equipped to provide fast and reliable heating services, including traditional wood-burning fireplaces, gas logs, pellet stoves, and inserts.
In addition, we also provide a full range of furnace services, from installation to maintenance. Our experienced technicians are available for emergency services 24/7, including furnace repairs and replacements.
Count on us for swift and dependable services, ensuring your comfort. Whether it's evaluating your current fireplace's condition or setting up a new one, we have you covered!
Professional Air Conditioning Services in Doylestown, PA
No matter the brand or model, we have the know-how and knowledge to repair any air conditioning system. Whether you need a simple part replacement or a complete system installation, our technicians can help get your air conditioner back in top shape quickly and efficiently. We can also help you upgrade your existing AC unit with modern energy-efficient features that will help you save money on your energy bills.
List of our comprehensive AC services:
Experience unparalleled comfort with Doylestown, PA, ductless mini split installations. Our expert installations ensure efficient cooling and heating, personalized to your needs. Discover the future of home comfort today with ductless mini-split systems!
Check our reviews section for our track record of excellence in delivering unparalleled AC services in Doylestown, PA.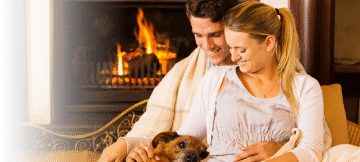 Benefits of Choosing Our Plumbing Services in Doylestown, PA
When it comes to your plumbing needs, we stand out as your reliable partner. Our commitment to exceptional service and customer satisfaction distinguishes us from others. Here's why you should hire our team for your plumbing requirements.
Choose us for hassle-free, efficient, and quality plumbing solutions. Your satisfaction is our priority.
For all your air conditioning and heating services in Doylestown, PA, contact American Home Comfort at 999-999-9999 to help you stay comfortable all year round!