WiFi And Smart Thermostats Quakertown, PA
A brilliant way to save money on heating and cooling costs is by installing the best smart thermostats, Quakertown, PA, in your Quakertown home. At American Home Comfort we will help you with your smart choice by installing or upgrading to Quakertown, PA smart thermostats. A smart thermostat makes no guesses when it comes to handling your home's temperature. These thermostats conserve energy for the greatest amount of time possible by keeping the temperature as low as possible.
Cash in on our coupons and get immediate discounts when you install furnace maintenance for your home, with us!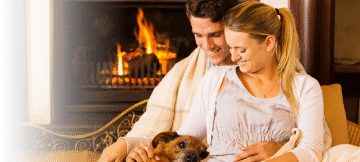 How Does Smart Thermostat Work?
Wifi programmable thermostats are intelligent devices, which can modify settings depending on the time of day. Some smart thermostat benefits are, the smart thermostat not only picks up on your behavior but knows when you leave the house. It is enabled to adjust temperatures accordingly. The app allows you the ability to keep an eye on your home's temperature while away and tune temperature settings from almost anywhere.
A smart thermostat works with almost any HVAC system. Models which are compatible with Amazon Alexa allow you to adjust the thermostat with your voice. Others can include room sensors which in turn can minimize temperature swings. It's energy efficiency avoids you wasting money on your heating and cooling system when you are not home.
It cools down or warms up your house based on your arrival. Actual savings depend on how small or large your rooms are, where you live, your humidity and temperature settings. Remember that minor changes to temperature adds up to big savings over the duration of a year. According to two major manufacturers, these could be between 12-23 %.
5 Signs To Know If You Need A Smart Thermostat
If your home no longer feels comfortable or you don't remember to adjust temperature settings when you leave, you might be in need of a smart thermostat. Smart thermostat at home depot is where you want to look for yours. Here are 5 signals which indicates a smart thermostat is perfect for you:
Your smart thermostat Quakertown, PA is WiFi enabled meaning you can set them with your smartphone, laptop or tablet while you're away from home. You can also keep in check on your systems performance and get instantly notified if your AC, furnace or heat pump is not working properly. Trying to remember when last you had your air filter changed or when it's time to book that periodic service? Your thermostat will remind you when it's time.
Call American Home Comfort Now!
For Thermostats Service Done By An Expert Technician, Turn To Us at American Home Comfort we are all about your comfort.
When it comes to installing a smart thermostat, there are two main factors that you should consider: the type of thermostat you want to install, and the ease of installation.
The amount of money you can save by installing a smart thermostat varies depending on a number of factors, such as the type of thermostat you install, the climate you live in, and your energy usage habits.
The best type of smart thermostat for your home depends on a number of factors, including the type of HVAC system you have, the size of your home, and your energy usage habits.