Chimney Relining Quakertown PA
In chimney repairs, chimney relining is one of the most commonly asked for services. Homeowners in Quakertown, PA have always turned to us for chimney relining and other repairs. Worried about relining a chimney costs? At American home comfort we offer reduced price for chimney relining. Call us today! We service Quakertown and surrounding areas including Bucks County, Allentown, Easton, Bethlehem, Ottsville, Plumsteadville and Doylestown, PA.
Majority of chimneys are made out of stone or brick. As a result, chimneys are not flammable. However, wood which is part of your building material around your chimney isn't that tough. There's a high chance of a fire if too much heat escapes from your chimney and finds its way to the walls around it. To prevent this sort of thing from happening, chimney liners are designed. Chimney liners play the role as a conduit which protects the walls of your home and chimney while together ensuring combustibles are removed from the chimney.
Chimney liners don't just prevent the walls around your chimney from catching on fire. Whenever you start a fire at your fireplace the smoke goes out your chimney and leaves behind the byproducts of combustion. If there's no prevention of these gases, they eat away at brick and the lifespan of your chimney is shortened. Chimney liners are there to extend the life of your chimney.
Want to find out how our customers feel about our gas line installation services? Go ahead, and read through our customer reviews and testimonials for assurance guaranteed!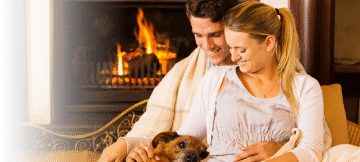 We Have Your Chimney Relining Options
When it comes to Quakertown, PA, chimney relining, you've got a few options when it comes to choosing the perfect chimney liner for your home. Metal liners, clay liners, and cast in place liners are some of the most common types of chimney liners. Here are the pros and cons to each liner, making the decision process easier. Homesaver chimney relining systems is what your fireplace needs:
Don't just take our word for it, view our customer reviews and see for yourself that we supply the best air-conditioning, heating, and plumbing services Easton, PA!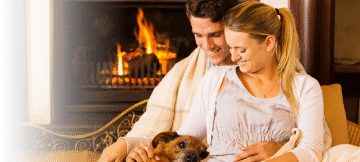 Chimney Relining Services FAQs
One option is to use a clay or terracotta flue liner, but these liners can crack and break down over time. A newer option is to use a stainless steel liner, which will last much longer and is also easier to maintain.
The cost of relining a chimney will vary depending on the type of liner you choose, the length of your chimney and whether there are any repairs that need to be done.
It is possible to reline your chimney yourself, but it is a difficult and dangerous job that should only be attempted by experienced professionals.
At American Home Comfort your safety is our priority. Don't search for how to reline your chimney, let us do it for you. For all your chimney lining services in Quakertown, PA don't go to other chimney relining companies in Quakertown, PA, simple call us American Home Comfort on (610)960-9475 now!