Gas Fireplace Repair Quakertown PA
Gas Fireplace Repair Services Quakertown, PA
Looking for gas fireplace repair in my area? American Home Comfort is your answer for nearby gas fireplace repair. Even though summer is approaching, it's a good idea to ensure your gas fireplace is in proper working condition before the winter arrives. Annual maintenance is a good idea even though a gas fireplace is a seasonal appliance. Most people just use their gas fireplaces in the winter months. American Home Comfort gives you reasonable costs for gas fireplace replacement. We have the know-how on how to fix your gas fireplace. We are the leading choice in gas fireplace service and repair near me. We offer a variety of services including:
Cash in on our coupons and get immediate discounts when you install furnace maintenance for your home, with us!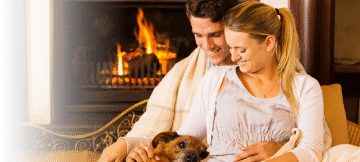 How Do You Know Your Gas Fireplace is in Need of Repair?
Quakertown, PA gas fireplace repair? Don't worry, we've got you covered.
Read more about our clients' honest, satisfied testimonials about our amazing chimney relining service from our friendly staff and technicians!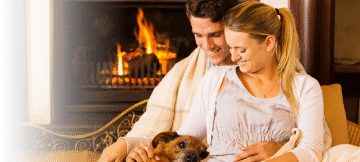 Hire Our Gas Fireplace Repair Man To Be At Your Beck And Call
Searching for the best gas fireplace repair near Quakertown, PA? We will sort out your gas fireplace in Quakertown, PA The experts we hire have done it all and seen it all in the HVAC industry. We can guarantee, no matter the problem, we have the solution. Our technicians have years of training and expertise under their belt, bringing you the highest standard of servicing possible. They work tirelessly to give you the ultimate customer satisfaction. We offer 24 hour gas fireplace repair. No matter the hour, American Home Comfort is on standby for you! So when you have a gas fireplace problem, call the number one gas repairman in Quakertown, PA. American Home Comfort, bringing the professionals right to your door.
Contact American Home Comfort For Best Gas Fireplace Repair
American Home Comfort is the smart choice for gas fireplace repair in Quakertown, PA. With over twenty years in the HVAC field, you can trust us with your every requirement. Our helpful customer care staff are eagerly awaiting to hear from you. Don't delay- call today for 24 hour gas fireplace repair on (610) 960-9375. You've tried the rest, now try the best! American Home Comfort, the ultimate quality of comfort! We service Quakertown and surrounding areas including Bucks County, Allentown, Easton, Bethlehem, Ottsville, Plumsteadville and Doylestown, PA.
Gas Fireplace Repair Services FAQs
A qualified technician who has experience repairing gas fireplaces should be able to repair your fireplace.
Natural gas and propane are both piped directly into the home and connected to the gas fireplaces, using a special valve that is installed by a gas fire professional.
Some of the most common problems that occur with gas fireplaces include: the pilot light going out, the fireplace not igniting, or the fireplace producing soot or smoke.