Gas Line Installation Quakertown PA
American Home Comfort is a family owned business that has many branches in areas including Bucks County and Lehigh Valley. If you reside in Quakertown, PA then we are part of the same community! Feel free to drop by at our offices or call us and schedule an appointment. We are the best when it comes to customer satisfaction in Gas Line home installation and servicing. Being in the market for over 20 years we are able to provide quality service that goes beyond the customers satisfaction. We deliver services in many categories which includes but not limited to installation of gas lines and servicing of both old and new units promptly. There are many cities we service including Allentown, Easton, Bethlehem, Ottsville, Plumsteadville, Doylestown, PA and many other surrounding areas in Pennsylvania.
Cost Involved In Installing Gas Line In Quakertown, PA
At American Home Comfort we understand that in these unique times people are eager to save money. We offer clients different payment options with tailor made packages. We understand that each customer has distinctive needs.There are many gas line installation companies in the market however they cannot guarantee the customer service and excellent workmanship that we can! Don't delay and give us a call today to enquire further.
Cash in on our coupons and get immediate discounts when you install furnace maintenance for your home, with us!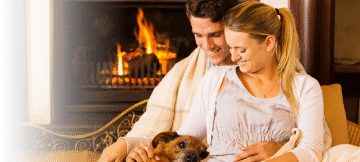 Process Involved In Installing Gas Line
There is a simple 5 step process that needs to be carried out by professionals. We ensure that all the safety precautions are taken:
Advantages Of Installing Gas Line
You don't need to be in a panic especially in the cold months when the power is switched off, as your back up the gas line will kick in and assist with your appliances. You will enjoy cooking, running appliances and heating your home as you get familiar with using the gas line. A gas line is beneficial to both the indoor and outdoor environment. Running a gas line is cost effective and decreases your utility bills.This is a positive towards your health as it is smoke free and a safe option. Be prepared for winter! Beat the crowd, add value to your house and reduce your bills by calling us today.
Don't just take our word for it, view our customer reviews and see for yourself that we supply the best air-conditioning, heating, and plumbing services Easton, PA!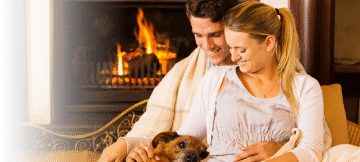 Call American Home Comfort Today For Installing Gas Line
Not every plumber can install a gas line as they need to be skilled with proper training and licencing. Plumbers also know the fixtures and fittings that will be approved to be used when running a gas line. By law plumbers are required to follow the code of ethics laid out by the government. When you are ready to install your Gas Line, go with the name that stands out in your community American Home Comfort. If you live in Quakertown and surrounding areas including Bucks County, Allentown, Easton, Bethlehem, Ottsville, Plumsteadville and Doylestown, PA then you're in luck! Call us now at 610-960-9375 to get the best plumbers in town.
Gas Line Installation FAQs
It typically takes anywhere from a few hours to a full day to install a new gas line.
Your local home improvement store should have the necessary supplies, or you can order one online.
If you are confident in your DIY abilities, then you should be able to install a new gas line yourself. But it is better to be safe than sorry, so make sure to consult a professional first and get all the necessary permits. Gas line installation is not a project to be taken lightly. One wrong move could result in a gas leak, which can be extremely dangerous.