HVAC And Plumbing Easton PA
Air Conditioning And Heating Services Easton, PA
Are looking for professional and reliable air conditioning services Easton, PA, but not sure who to choose? With so many air conditioning companies in town it's not surprising that you may be confused. Look no further, because here at American Home Comfort we will supply your household or business with the best air conditioning repair service Easton, PA.
Don't just take our word for it, view our customer reviews and see for yourself that we supply the best air-conditioning, heating, and plumbing services Easton, PA!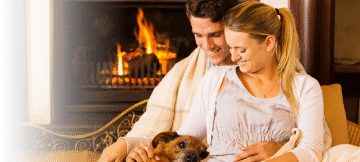 Affordable & Reliable AC, Heating, And Plumbing Services Easton, PA
Here at American Home Comfort we make sure we provide our customers with all their household needs when it comes to comfort. We specialize in everything you require for your air conditioning system. Dehumidifiers are great at keeping your home properly ventilated as it draws in the warm air from the surroundings and releases cool air for you to enjoy. Looking for the most flexible in indoor air quality companies Easton, PA, then give us a call.
We offer everything from air conditioning services, to heating services, furnace repair services and furnace maintenance services. We boast a winning track record amongst furnace repair companies in Pennsylvania. We make sure we offer and cater to all our customer's needs. Our service technicians offer the best heating services Easton, PA, has in town!
Our team is made up of licensed experts who know how to identify a problem quickly and come up with the best possible solution that will get the job done. Not only do we provide quick and professional services, but also offer the best prices, making us a force to be reckoned with in the HVAC industry. You are just one call away from reaching Easton, PA air conditioning service experts. Solve all your air-conditioning, heating and plumbing problems with American Home Comfort today.
Affordable HVAC And Plumbing Services By American Home Comfort
At American Home Comfort our customers come first. We offer affordable prices as well as convenient financing solutions to suit your budget. There's no need to break the bank to get your HVAC services done with us. Accidents can never be predicted, so having someone who has your back when something does go wrong is crucial. We offer emergency plumbing services in Easton, PA and have professional plumbers on standby waiting to attend to any given plumbing situation you find yourself in.
Read more about our clients' honest, satisfied testimonials about our amazing chimney relining service from our friendly staff and technicians!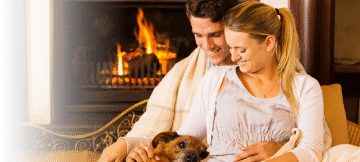 Call Our Team At American Home Comfort Easton, PA To Start Saving
We have two decades of experience! Our professionals are situated near you and are ready to service your HVAC and plumbing needs in record time. Give us a call on (610) 960-9375 to get your quote today in Quakertown and surrounding areas including Bucks County, Allentown, Easton, Bethlehem, Ottsville, Plumsteadville and Doylestown, PA.
American Home Comfort will take care of all your air conditioning, heating and plumbing services any time of the day or night. Don't accept anything less than the best. Call now!