Furnace Repair Quakertown PA
American Home Comfort is the home of the expert furnace repair team. If you live in Quakertown, PA, you should know how tough the month of January is on furnaces. It is the coldest month of the year. At this time, many homes require the services of their HVAC company which may not be forthcoming due to the high demand.
To avoid the need to wait in line for furnace repair in Quakertown, PA, and nearby areas, you should learn to pick your furnace's warning signs. That is why American Home Comfort takes the time to explain some of the common signs.
We value our customers and everyone who desires our service. We make available payment options and customer product deals that make the furnace maintenance cost manageable!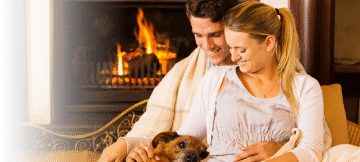 Warning Signs That You Need Furnace Repair Service
Advantages Of Using Furnace Repair Companies
Four Furnace Repair Emergency Situations
Affordable Furnace Repairs With American Home Comfort
When you require the "best furnace repair near Quakertown, PA," the name that should come to mind is American Home Comfort. Our cost for furnace repair services is affordable and covers Quakertown, Bucks County, and Lehigh Valley.
Furnace Repair Service FAQs
When it's cold outside and you try to turn on your furnace, does it make any sounds at all? If it does make a sound, is it more of a clanking or rattling kind of sound? If so, then your furnace might be broken.
If your utility bills have been spiking recently, that could be an indication that your furnace is not working as efficiently as it should be.
If you wait too long to get your furnace repaired, it could break down completely. This would not only be an inconvenience, but it could also be very expensive to replace.