HVAC And Plumbing Allentown PA
Best Air Conditioner Services Company In Allentown PA
The humid climate in Pennsylvania can cause major discomfort if your air conditioner lets you down. Isn't it comforting to know that there is a contractor that stands out amongst air conditioning companies? Searching for the best air conditioner repair service in Allentown, PA? American Home Comfort can provide you with various services for your air conditioning system or HVAC problems. With amazing professional services like:
Our technicians will show up at your doorstep, work tidily and efficiently to get your home or office properly ventilated again. We are a trusted name in Allentown, PA for air conditioning services.
Is Your HVAC System Slowing Down? Get Best Heating Services in Allentown, PA
At American Home Comfort, our technicians are highly trained, qualified and ready to take on any of your HVAC issues and have it fixed with diligence and care. Whether you need furnace replacement, furnace repair services or furnace maintenance service, turn to us when looking for furnace replacement companies. Heat pumps can save you up to two thirds on your electric bill. Have one installed by the experts at home comfort solutions. 
Incomparable Indoor Air Quality Services
Take your power back and let us show you how we can improve your indoor air quality. With a selection of air purifiers, dehumidifiers, air filtration systems and UV lights, you can be rest assured that your home or office is in good hands. All indoor air quality systems are fitted according to manufacturer specifications using the best branded products. Air purifiers sanitise the air in your home or office making it easier to breath and protects you from harmful viruses and allergens. Dehumidifiers convert warm air into cool comfort air, while removing moisture. We stock and install all these and more. The best in indoor air quality companies, Allentown, PA.
Want to find out how our customers feel about our gas line installation services? Go ahead, and read through our customer reviews and testimonials for assurance guaranteed!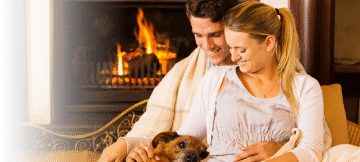 HVAC And Plumbing Services Near Allentown, PA
Are you experiencing leaking faucets, clogged drains and pipes that need replacement ASAP? Tried to do-it-yourself and ended up spending more money without getting anything done? American Home Comfort can help! Our 24 hour emergency plumbing services Allentown, PA has helped many residents in the Pennsylvania district. Our company has been in the business since 2001. We use special tools and chemicals to clean your drains while adhering to safety protocols. No more clogged drains when you entrust your plumbing services to us! We do emergency repairs on water heaters, any time of the day or night. Don't delay, call American Home Comfort on 610-960-9375 now.
Receive top class customer satisfaction when you choose American Home Comfort for all HVAC and plumbing services in Allentown, PA. We also serve Quakertown and surrounding areas including Bucks County, Easton, Bethlehem, Ottsville, Plumsteadville and Doylestown, PA!