Ductless Mini Split System Quakertown PA
You may have heard of traditional HVAC systems, but do you know that mini splits provide a highly efficient way to heat and cool your home? These units are an excellent option for those who want to upgrade their home comfort while saving money on energy costs. With American Home Comfort, you have access to industry-leading mini split products designed to keep your living space comfortable and efficient all year round.
Our team of HVAC professionals can help you select the best system for your needs and install it quickly and efficiently. With a mini-split, you can rest assured that your home will be comfortable and energy efficient for years to come. If you are looking for mini splits installation in Quakertown, PA, our expertly trained technicians are here to help.
Whether you are looking for AC repair or a mini split installation, you can always count on our professional team!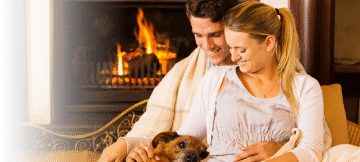 Benefits Of Ductless Mini Split Installation
A mini split is a unit made up of an outdoor compressor/condenser and one or more indoor air handlers. The system is connected by a conduit that houses the power cable, refrigerant tubing, suction tubing, and drain line. This makes them ideal for homes with limited space since they don't take up a lot of room in your home.
Mini splits provide many advantages over traditional HVAC systems. They are more energy efficient and require much less space than a central air system, and can often be installed without major renovations to your home. The indoor units of mini splits are substantially quieter than traditional air conditioners, making them ideal for bedrooms or other living spaces where noise might be an issue.
Additionally, mini splits offer the convenience of remote control operation, allowing you to adjust the temperature in your space from anywhere with a wireless connection. However, it's not a do-it-yourself project, so for professional mini splits installation near Quakertown, PA, you should better contact our technicians.
Things To Consider Before Mini-Split Installation in Quakertown, PA
Before investing in a mini-split system, there are some things you should consider. Let's list out a few:
Our HVAC professionals can help you find the perfect mini-splitlit system for your home or business. We will provide expert advice and guidance on selecting a suitable model and properly installing it for maximum energy efficiency and comfort.
Don't just take our word for it, view our customer reviews and see for yourself that we supply the best air-conditioning, heating, and plumbing services Easton, PA!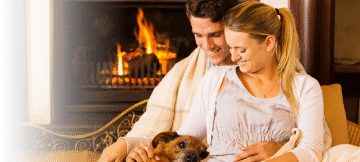 How Much Does Mini Split Installation Cost in Quakertown, PA?
Although it's easier to get an estimate for the final cost, there are many factors that affect the total mini-split installation cost in Quakertown, PA. Some of these include the complexity of the project, size and efficiency rating of the unit, amount of refrigerant needed to fill the tubing, labor costs, and local building codes and permits.
On average, the mini split AC installation cost in Quakertown, PA, can range from $2,000 to $7,000 for the equipment and installation. For a more accurate estimate, you should better contact our team.
Professional Mini Split AC Installation in Quakertown, PA
Remember that when installing a mini split air conditioner, it's important to hire an experienced professional. American Home Comfort has been providing HVAC services in Quakertown and the surrounding areas for many years. Our knowledgeable technicians have the expertise and experience to ensure that your unit is properly installed so you can enjoy optimal comfort in your home.
We value our customers and strive to provide the best service possible. We offer estimates before a mini split installation near Quakertown, PA, so you can make an educated decision about your HVAC system. To top it up, we also offer a wide range of financing options to make installation more affordable.
Ductless Mini Split Service FAQs
If you're looking for expert mini splits installation in Quakertown, PA, contact American Home Comfort today at 610-960-9375! We are committed to providing the best service and solutions for your heating and cooling needs!