Furnace Maintenance Quakertown PA
We all want a furnace that functions efficiently, doesn't cause unnecessarily high utility bills, provides maximum comfort, and doesn't break down. The good news is that you can have all of these if you invest a little to cover the furnace maintenance cost.
At American Home Comfort, we make the cost for furnace maintenance easy with several payment options. We also guarantee you never miss a yearly Quakertown, PA furnace maintenance when you sign up for our furnace maintenance contract. Whether it's electric furnace maintenance or gas furnace maintenance, you can rely on us.
With several product deals, there's always something for everyone. You don't have to worry too much about furnace repair service cost!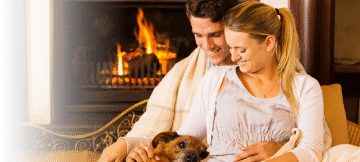 Importance Of Furnace Maintenance Quakertown, PA
Furnace Maintenance Checklist At American Home Comfort
Here are some steps of a typical furnace maintenance checklist at American Home Comfort:
5 Furnace Maintenance Tips From Professional Furnace Maintenance Company
These easy to execute steps will keep your furnace going until the next annual maintenance:
Furnace Maintenance Services FAQs
You can save both time and money by investing in an annual furnace maintenance plan. A regular maintenance plan can prevent mishaps and malfunctions that could cost you a lot of money in the long run.
The best place to get your furnace serviced is at a certified HVAC company. Be sure to ask about their furnace maintenance plans before scheduling an appointment.
It is recommended that you get your furnace serviced at least once a year. This will help to ensure that it is running smoothly, and allows any potential problems to be noticed and addressed before they cause costly repairs.
American Home Comfort is the home of professional furnace maintenance service. We also provide reliable furnace maintenance in Quakertown, PA, and surrounding areas. If what you're looking for is "one of the best furnace maintenance companies near me," call us now at 610-960-9375!