Boilers Repair & Installation Services in Quakertown, PA
Looking for boilers service near Quakertown, PA? We at American Home Comfort provide maintenance and repairs for all of your heating systems including boilers. We provide planned and pre-booked boiler services for your home as well as your business and provide boilers service contracts. Our team of highly trained technicians works tirelessly to ensure that the service agreement is met with top quality results. All of our technicians have a minimum of 5 years of experience in the field.
Our jobs are documented and logged to ensure that all of our customers are provided with a job report. Contact us now for the best boiler maintenance contract for Quakertown PA boilers repair and new boilers installation at rates that are affordable for your specific needs.
Here at American Home Comfort, we employ only the very best and most experienced boiler maintenance engineers. If you're looking for companies who service boilers, look no further than us.
Best Boiler Repair Company Quakertown, PA
Keep your boilers in pristine working condition and minimize downtime and inconveniences. Our team values both safety and quality. We work to a standard that upholds our company values. We provide a complete maintenance check as well as the removal, reconditioning, and refitting of valves to all types of boilers. Be it boilers replacement or boilers installation we provide the best boiler services in Quakertown, PA.
Searching for " best boiler repair near Quakertown, PA"? You've found us! Contact us for boilers installation prices and affordable boilers replacement cost. We guarantee the best boilers installation in Quakertown. We will beat any boilers installation company, for boilers installation in Quakertown, PA.
Boiler Installers And Maintenance In Quakertown, PA
Having regular maintenance carried out on your boilers will help to keep them functioning at their optimum level. Our technicians at American Home Comfort are trained to identify when the necessary maintenance needs to be carried out, while doing so in a cost-effective manner. Regular maintenance on your boilers will have them running both smoothly and safely and prevent small issues from turning into bigger problems. Maintenance costs may leave you feeling down, but with American Home Comfort you will find a finance plan that will suit all of your needs. We are renowned for our boilers maintenance Quakertown PA.
If you want to know what some of those who have trusted us with their furnace repair & installation services have to say, check out our customer reviews!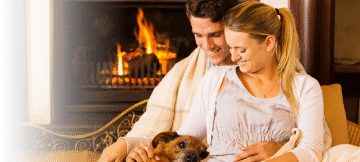 Boiler Services From American Home Comfort
All boiler maintenance jobs start with a visual check to make sure that the boiler and all of the pipework associated with it is positioned in the correct manner. Our technicians will then check to see if the boiler is working both safely and efficiently and then proceed to clean all of the components inside the boiler. Our technician will then test for the correct gas pressure and flow. Get your boiler repaired today from a trusted professional at American Home Comfort.
The best way is to consider how many people are living in your home, and the amount of space you have for a new boiler.
Some of the best boilers include manufacturers such as Buderus, Viessmann, and Weil-McLain.
Most boiler manufacturers recommend that the boiler be located in a central location, such as a basement.