Heating & Furnace Quakertown PA
Heating Services in Quakertown, PA
Having your furnace malfunction in your home could lead to more problems than just being uncomfortable. With every second that your heating is off your pipes are placed in danger. They run the risk of freezing. Once your pipes have frozen over they can burst and cause a significant amount of damage to your home.
We at American Home Comfort are a professional heating and furnace repair agency that offers the best furnace repairs in your area. When you choose our services you are choosing professionals who are experienced enough to fulfill all of your heating and furnace repair emergency needs. We locate the problem in no time, determine the type of fix it needs and work to provide the most durable and reliable repairs possible. We promise to beat any if not all furnace repair companies when it comes to quality and affordability. 
Cash in on our coupons and get immediate discounts when you install wifi thermostat for your home, with us!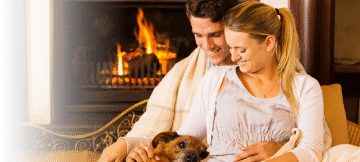 Furnace Repair Services Quakertown, PA
In order for your furnace to work, its numerous moving parts need to be working together. The devices that make up your furnace are highly engineered with fans, sensors, motors, igniters, gas valves, rectification systems, bearings, and controls. If just one of these parts happens to fail, an entire system failure can be triggered which in turn can also cause other failures. Some of the issues that may plague your furnace include a dirty filter, abnormal sounds, faulty thermostats, or a lack of airflow from the blower. Sounds worrying, doesn't it? You won't feel the chill if you contact American Home Comfort today.
Heating Services From American Home Comfort
According to research published by the World Health Organization, the ideal temperature for indoor areas should be set to no lower than 64 degrees Fahrenheit and nothing higher than 70.  From a health standpoint, it is very important to make sure that your home is properly heated, to avoid the build-up of mold, to maintain healthy blood pressure and heart rate levels, and to ensure a good night's sleep.
You Can Rely On Us For Furnace Repair Emergency
Your furnace should be seen as an investment and when treated right it will heat your home for years without any issues. However, if you do find yourself in a furnace repair emergency, give us a call and we will be there in a jiffy. If you neglect the initial issue, your furnace will become prone to breakdowns and efficiency issues which could lead to the catastrophic failure of your furnace.
To avoid a serious emergency, give our furnace maintenance experts a call to provide your furnace with the help and attention that it needs to be able to withstand winters for the years to come. 24 hour furnace repair is our thing! If you're still wondering about "furnace repair in my area" or "best furnace repair near Quakertown, PA" look no further. We are what you need.